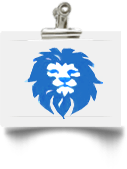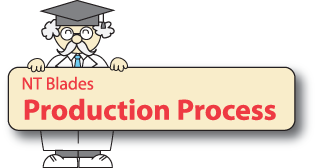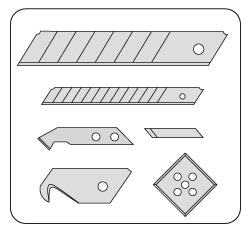 NT's snap off blades for utility knives are made of high quality Carbon Tool Steel. Other NT specialty blades are made of rust resistant Stainless Steel, extra-hard Tungsten Carbide, etc. for consistant accuracy and optimum durability.

Let me tell you about how NT's snap off blades are made.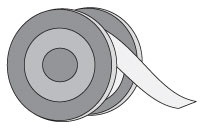 0.38mm thick, Carbon Tool Steel is still flexible and rolled in coil at this stage.

The first process is what we call "the Press Work."

Using a press die, a little hole (to lock the blade to the slider), snapped line, company name and lot number is pressed on to the steel and rolled back to the coil. The press machine is adjusted by 1/100mm so that the consecutive press-work is precisely done till the end of the roll.

The Next process is Heat Treatment.

After the blades are washed off, the pressed steel is heated in an 850~1,100 degree celsius furnace and immediately cooled down.

This heating and cooling treatment enhances the hardness of steel. The steel is now hard enough, but it's still brittle at this stage.

To reduce its brittleness, the steel goes into the furnace again and its texture is uniformed by a process called annealing.


Next comes Sharpening.

Using various kinds of whetstone, both sides of blade edge are sharpened at the same time for better sharpness and high edge retention.



Now it's time to cut each blade off the roll.

Feeding speed is measured at the hole with sensor, and a punch that is synchronized with the sensor goes down to cut lines in each blade.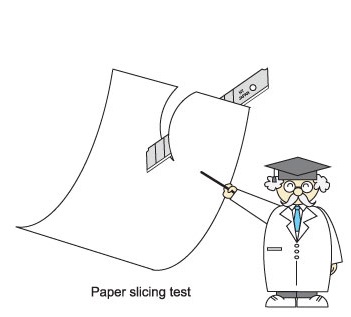 A multiple-layer cutting test is done by machines and the results are evaluated.
Cutting performance, however, is evaluated by hand.
An inspector holds the paper vertically with one hand and the blade with another, sliding the blade into the paper to gauge its performance by feel. A sharp and smooth blade is not the only factor in a knife's quality. It's important that the cutter performs comfortably in the user's hand, and that can't be evaluated solely by the machine's test results.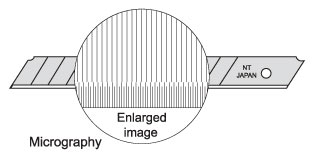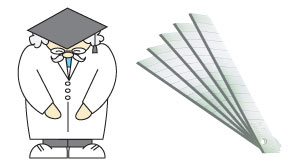 We hope you enjoyed our presentation!
NT's professional blades are produced through multiple stages of precise process to obtain the ultimate sharpness and optimum edge retention.